Help your dog be a Good Dog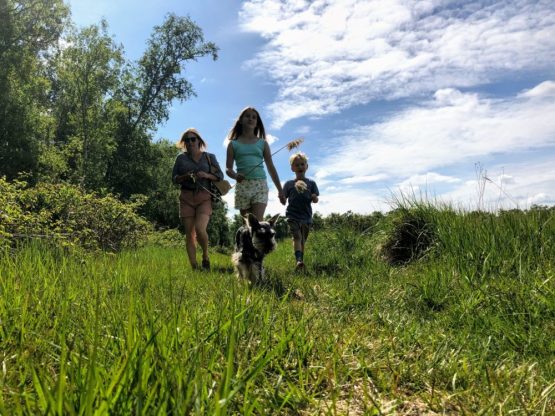 National research shows that between a third and a half of countryside visitors have a dog with them.
When you take your dog into the outdoors, always ensure it does not disturb wildlife, farm animals, horses or other people by keeping it under effective control.
This means that you:
Keep your dog on a lead
Keep it in sight at all times, be aware of what it's doing and be confident it will return to you promptly on command
Ensure it does not stray off the path or area where you have a right of access.
Special dog rules may apply in particular situations, so always look out for local signs.
Dogs and open access land such as heathland - the access rights that normally apply to open country and registered common land (known as 'open access' land) require dogs to be kept on a short lead between 1 March and 31 July, to help protect ground nesting birds, and all year round near farm animals.
Dogs and coastal access land - at the coast, there may be some local restrictions to require dogs to be kept on a short lead to prevent disturbance during the bird breeding season, and to flocks of resting and feeding birds during other times of year.
Suffolk Coast & Heaths AONB ran an 'I'm a Good Dog!' campaign to raise awareness of the importance of responsible dog ownership, build relationships between dog owners and land managers, and provide practical support and guidance. As part of the campaign we produced a 'calling card' for landowners and managers to use when introducing themselves to dog walkers to act as an ice breaker and lead to constructive discussions.
Walks for the public and their dogs were organised with clearly signposted 'off the lead' and 'on the lead' areas, clear and weatherproof signage produced plus positive promotion of places where well behaved dogs and owners are welcome.