The Suffolk & Essex Coast & Heaths National Landscape has so much to see and so many breathtaking views to enjoy when exploring on two wheels!
Whether you are simply getting from A to B on the roads, or looking to get adventurers and discover the tracks and trails, there is something for everyone. You can also often start your ride by arriving on public transport to the start of your route.
Our free to download guides offer a range of options. We recommend you use our leaflets alongside the relevant OS map (noted in each guide).
Each of the guides below link to a PDF document you can download or view online. Some of the guides are also available in print form so please contact us or more information.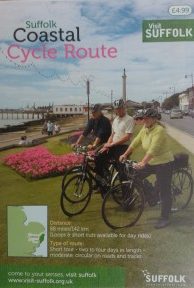 Suffolk Coastal Cycle Route
The Suffolk Coast Cycle Route uses mostly quiet roads and tracks, and is signed in both directions.
The full circuit is 88 miles/142km and is designed to take between two and four days to complete. Its northerly point is Dunwich and its southerly point is Felixstowe.
This popular guide contains maps and information about places of interest along the way and is available free of charge. If you would like a copy, please get in touch via the details on our contact page.
Please note, this guide was produced in 2009 so some of the supporting information may no longer be reliable.