About the National Landscape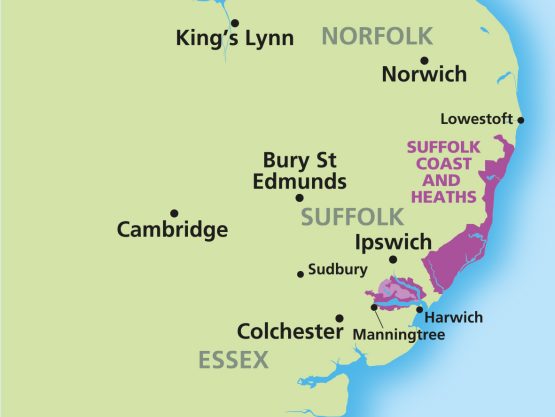 The Suffolk & Essex Coast & Heaths National Landscape is a distinctive area of legally protected countryside, towns and villages in East Suffolk and North Essex.
The area was designated in 1970 with the purpose of conserving and enhancing the protected landscape. A beautiful stretch of the Suffolk coast, from Kessingland in the north, to the River Stour Estuary in North Essex in the south.
Wildlife rich estuaries, shingle beaches and heathland characterise the area, together with important agriculture and forestry land and picture-postcard coastal towns.
Tourism is the foremost economy with visitors attracted by the authenticity of the area, its amazing environment, quality accommodation and local food and drink. It's cherished for its relatively undeveloped, tranquil landscape and stunning natural and cultural history.
How do I know if I am in the National Landscape?
To find out if an address is within the National Landscape you can use either:
Google Maps -

the National Landscape is shown as a pale green area.

Magic Maps -

you can use our

quick guide (PDF)

on finding out if a place is within the National Landscape on Magic maps.