Conservation and Enhancement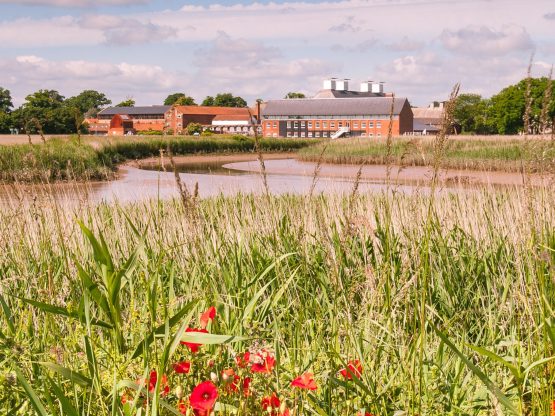 As the name suggests, the Suffolk & Essex Coast & Heaths National Landscape is an outstanding landscape. It covers around 440 square kilometres stretching from Kessingland in the north to the River Stour in the south.
The eastern boundary is formed by the North Sea and the western boundary encompasses Suffolk's estuaries.
Our vision is: An area of special wildlife, landscape, seascape and heritage qualities that are conserved and enhanced with the needs of people living, working and visiting the National Landscape.
National Landscapes are designated for their natural beauty and their primary purpose is to conserve and enhance natural beauty. The concept of natural beauty is one that is sometimes difficult to understand.
There has been an attempt to define the factors contributing to the natural beauty of the Suffolk & Essex Coast & Heaths National Landscape that includes:
Landscape quality, where natural or man-made landscape is good quality;
Scenic quality, such as striking coastal landforms;
Relative wildness, such as distance from housing or having few roads;
Relative tranquillity, where natural sounds, such as streams or birdsong are predominant;
Natural heritage features, such as distinctive geology or species and habitats;
Cultural heritage that makes the area unique, such as archaeological remains or historic parkland;
The character of our landscape is a product of its underlying geology and associated natural habitats. It is shaped by the effects of the sea and the interaction with people. It is a gently rolling landscape, with the estuaries a common and dominant feature. Where the land does rise, commanding views across the landscape are rewarding.
Farmland dominates, interspersed with picturesque villages and the occasional small seaside town. There are forestry plantations, low lying freshwater marshes and extensive areas of heathland. The coastal fringe is dominated by estuaries, grazing marshes, and lowland heath.
Where the Suffolk & Essex Coast & Heaths National Landscape joins the sea, shingle beaches often stretch for miles. Orford Ness, the great shingle spit between Southwold and Shingle Street, is the largest of its kind in Europe. In some places, soft cliffs rise behind the beach, demonstrating the dynamic nature of this coast.
A dominant feature of the coast is the five river estuaries. The Blyth, Alde and Ore, Deben, Orwell and Stour estuaries are the locations of some of England's finest wildlife habitats. There are areas of extensive reedbeds such as at Westwood Marshes, the UK's largest reedbed. Much of the area was once heathland, known as the Sandlings and significant tracts remain.
The human influence over millennia provides a rich heritage. From internationally important archaeological sites, such as Sutton Hoo to military structures such as the Napoleonic Martello towers and World War structures to defend the nation from possible invasion.
In summary our key landscape characteristics include:
Predominately low-lying landform
Dynamic coast with long sweeping bays cut by a series of estuaries
Twisting alluvial valleys from west flowing rivers
Expansive coastal level grazing marshes
Fragments of lowland heath habitats
A treed character with substantial coniferous forests
High quality vegetable production and outdoor pig units
Historic field patterns of small-scale meadow enclosure
Area rich in archaeological remains from various eras
Sparsely settled area with small villages and farmsteads
Traditional buildings with a localised vernacular of soft-hued red bricks, straw thatch, pantiles or peg tiles, rendered and 'Suffolk pink' painted, or using split or knapped flint
Extensive public access on land and rivers