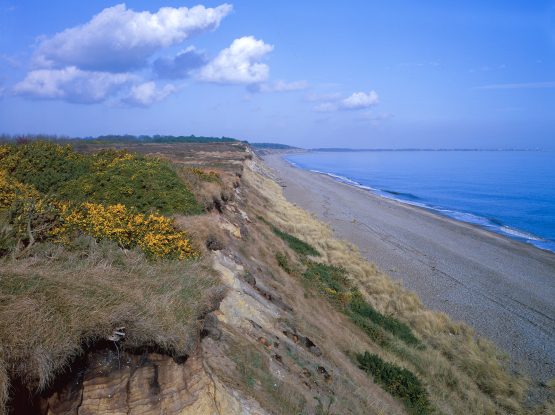 Compared to most of southern Britain, Suffolk's shoreline is largely undeveloped. A landscape dominated by the sky, shaped by the power of wind and sea.
Coastal erosion is a key force for change in the landscape. Some parts of the coast are eroding quickly, while in other areas vast shingle beaches have built up – home to many rare and specialised plants and nesting seabirds.
Behind the shingle, shallow lagoons and large reedbeds are often found, many protected as nature reserves in recognition of their high wildlife value.
The fact that the Suffolk coast is largely undeveloped is down to geography. The way we have settled and developed the landscape here has been significantly influenced by the five river estuaries in the Suffolk & Essex Coast & Heaths National Landscape, the Blyth, Alde & Ore, Deben, Orwell and Stour.
They have made transport and communications difficult here, adding to the sense of remoteness of the area, but also preventing the development of a major coastal road.
In places, landmarks break the skyline; church towers, lighthouses, coastguards' cottages and Sizewell Nuclear Power Station. The quiet coastal towns and villages add much to the area's unique appeal.
When exploring the Suffolk & Essex Coast & Heaths National Landscape, it's important to stay away from cliff tops and bottoms. Find out more about cliff safety.