There are a number of non-native invasive species that are a cause for concern in the Suffolk & Essex Coast & Heaths National Landscape. They have been particularly problematic in freshwater, coastal and estuarine habitats.
Here is a short description of the most problematic species in rivers: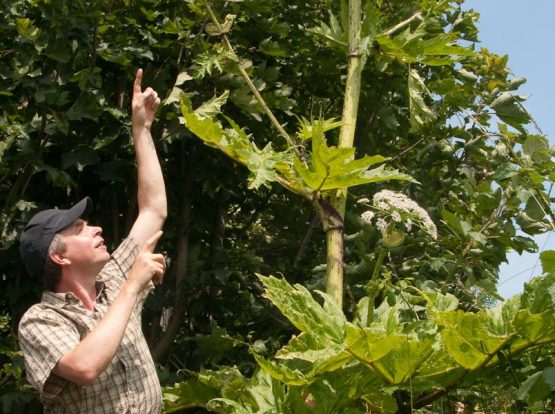 Originating in the Caucasus Mountains in south-west Russia, Giant Hogweed (Heracleum mantegazzianum) commonly occurs along watercourses, in wet meadows and on waste ground. It can grow to 500cm tall with a hairy/bristly stem up to 10cm wide at the base with purple blotches.
A single plant can produce between 30-50,000 seeds. Its height and large leaf area forma dense canopy which out competes native vegetation. Overwinter dieback of Giant Hogweed along riverbanks exposes bare earth resulting in an increased risk of bank erosion.
Giant Hogweed represents a serious health hazard for humans. When the clear sap comes into contact with human skin in combination with ultraviolet radiation it can cause severe burns.
The adverse skin reaction can remain sensitive to ultraviolet light for years. Large costs are associated with the control and monitoring of Giant Hogweed due to its high risk to human health.
Secondary costs are associated with reductions in tourism and leisure activities when Rights of Way become inaccessible, or when angling/canoeing sites become devalued due to a reduction in access.
The American Mink (Mustela vison) was brought to Great Britain in the early 20th century for fur farming but became established in the wild after escapes and deliberate releases.
By the middle of the 20th century mink had become widespread. They are opportunistic predators and will take a wide variety of prey, often killing more than they require for food.
Among their prey is the native and protected Water Vole (Arvicola terrestris). Since the introduction of mink, Water Voles have rapidly declined.
Past surveys across the British Isles have shown that Water Vole sites have diminished by as much as 94% and are one of the most rapid and serious declines of any British wild mammal during the 20th century.
The problem has been exacerbated by habitat changes in the Water Vole's natural habitat. The American Mink also has a significant impact on other native wildlife including sea birds, domestic fowl and fish.
American Mink is listed under Schedule 9 to the Wildlife and Countryside Act 1981 with respect to England, Wales and Scotland. As such it is an offence to release or allow the escape of this species into the wild.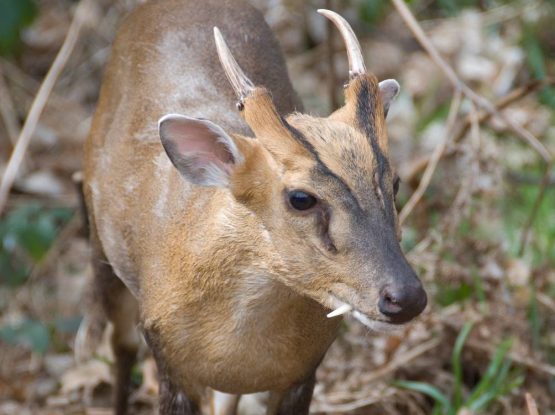 Muntjac (Muntiacus reevesi) are the smallest deer found in then UK, measuring approximately 50cm at the shoulder in males and 47cm in females.
Introduced to deer parks in the 1900s, for example to Woburn Park in Bedfordshire in 1901, it became established in the wild following escapes, releases and translocations as well as natural spread.
Where population density is high muntjac can have a serious impact on woodlands, particularly on various plant shoots and ground flora, as well as garden plants, and some field and market-garden crops.
They also pose a threat to road users through collision.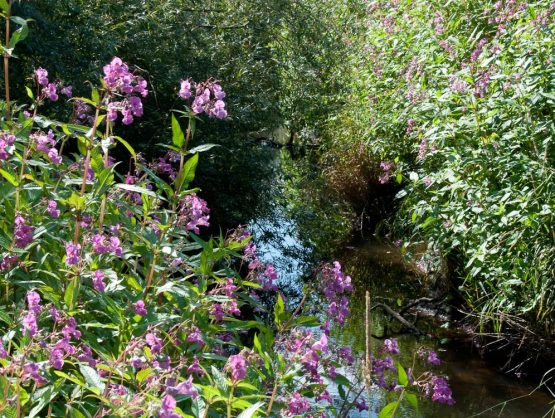 Also known as Indian Balsam and Policeman's Helmet, Himalayan Balsam (Impatiens glandulifera) was introduced as a garden plant in the early 19th century and first recorded in the wild in 1855. Often favoured by the general public for its aesthetic appeal and is still deliberately planted on occasion.
Now widespread in the UK, especially along rivers. Spreads solely by seeds, which can be fired out of exploding seedpods up to 8m away.
Himalayan Balsam out-competes native species in ecologically sensitive areas, particularly riverbanks. Where it grows in dense stands along riverbanks it can impede flow at times of high rainfall, increasing the likelihood of flooding.
Die bank of extensive stands over winter can leave riverbanks bare and exposed to erosion.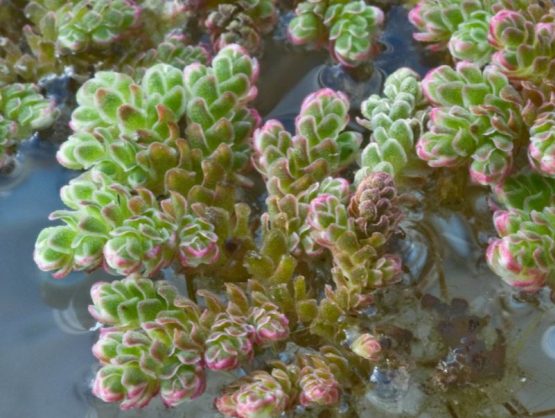 Water Fern (Azolla filiculoides) is a very small free-floating water plant that forms dense mats. Unmistakeable when in its red form and relatively easy to distinguish from duckweeds in its green form.
Can be seen most months of the year. Spreads mainly vegetatively but can produce minute spores. It was introduced for ornamental use in ponds and aquaria.

First recorded in 1883 and has spread rapidly throughout England in the last 50 years. Can be inadvertently carried on water plants from garden centres.
It out-competes native species by forming a dense covering on the surface of the water, blocking out light, causing deoxygenation, preventing air-breathing insects from reaching the surface and reducing water temperatures.
Dense and continuous stands can be a health hazard as the water surface appears solid.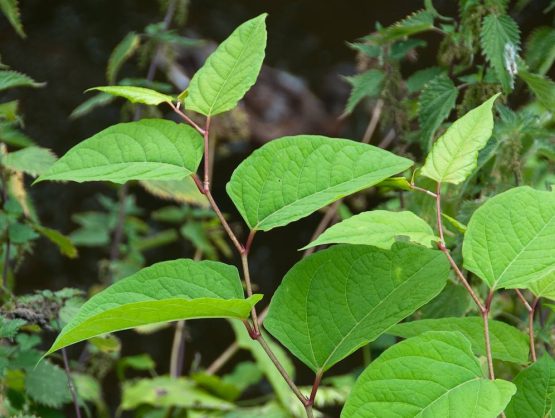 Japanese knotweed (Fallopia japonica) is a tallherbaceous perennial with bamboo like stems.
It often grows into dense thickets. It was introduced in the early 19th century as an ornamental plant. Now common and widespread across the UK. It spreads rapidly in the wild by natural means and as a result of spread by humans.
Spread is solely by vegetative means, either fragments of rhizome or stem. Its negative impacts include out competing native flora, contributing to riverbank erosion and increasing the likelihood of flooding.
It can also cause significant delays and cost to development as well as structural damage (it can grow through asphalt and some other surfaces).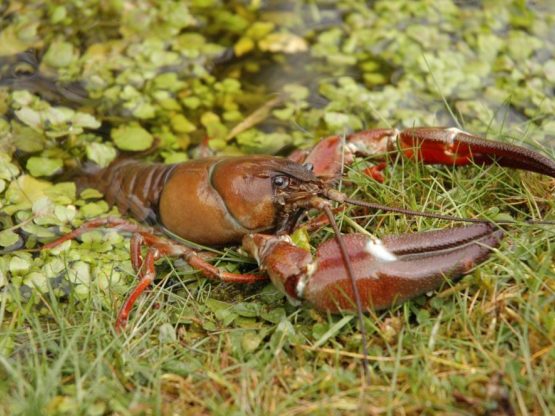 Photo credit: Trevor Renals
Their small lobster-like appearance makes crayfish easy to recognise. Compared to the native white-clawed crayfish, the signal crayfish is much larger and its claws are red underneath with a small turquoise/white blotch on the surface.
Signal crayfish were introduced for food in the late 1970s and 1980s but spread quickly across much of the UK. They can spread easily up and down stream and may cross land to colonise adjacent water bodies.
Human transfer, although illegal, continues. Negative impacts include the almost complete loss of the native crayfish through the spread of disease and direct competition.
They also undermine riverbanks through burrowing and can predate on native fish eggs and aquatic invertebrates.