Farming in Protected Landscapes Case Study:
Crimper cultivator to support regenerative farming methods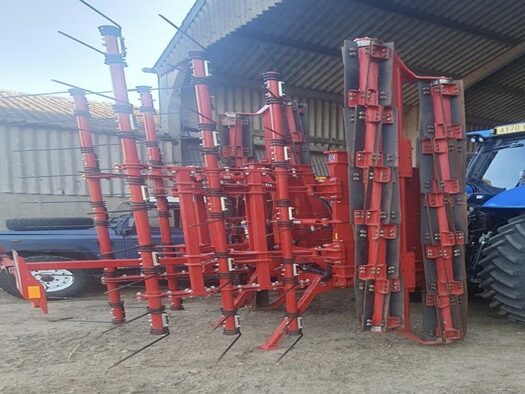 A grant of £20,240 was provided to Raven & Sons towards the cost of a Horsch Cultro double crimper roller and harrow. This equipment will allow cover crops and weeds to be destroyed ahead of direct drilling, without the use of glyphosate or cultivation.
Raven & Son use regenerative farming techniques to benefit the environment and climate. They routinely use cover crops, the benefits of this are:
As part of the rotation to sequester soil carbon

To provide habitat for biodiversity, both underground and above

To keep the soil covered when there are no crops growing, to protect against soil erosion

To keep precious organic matter in the soil, to benefit the next crop and improve soil health without the use of chemicals

And to safely scavenge and store soil nutrients to protect the local water courses from nutrient leaching
The downside of using cover crops is that destruction of these plants necessitates either deep cultivation, or the use of glyphosate herbicide. If the cover crop isn't destroyed it can risk the next crop, but the double-crimper design of the Horsch Cultro equipment enables thorough cover crop destruction without cultivation or herbicide.
This new equipment is enabling the farm to deploy cover crops on a wider area, knowing that they have the tools to confidently manage the biomass (also including straw residues) prior to the following crop planting. This careful management is particularly important in this area as the farmland drains into the Lothingland Hundred river and then enters the Benacre Broad National Nature Reserve.
The river is currently rated as "poor" for nutrient management, livestock management, dissolved oxygen and chemical status. Therefore, all farming activity upstream has a direct effect on the National Nature Reserve.
This is an innovative approach, and other farmers within the Suffolk & Essex Coast & Heaths National Landscape are interested to see how this system works before considering following Raven & Son's footsteps. A demonstration is planned for the autumn, and the success of the following crop will be monitored so that the results can be shared and the aim is to develop confidence in new, nature-friendly farming methods.