Farming in Protected Landscapes Case Study:
Enhancing habitat and protecting birdlife at Easton marshes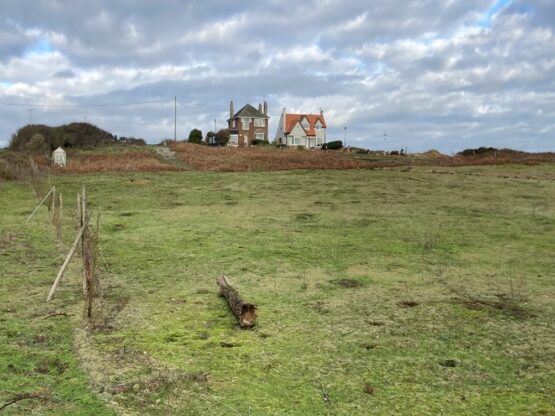 For Year 2 of the Farming in Protected Landscapes programme, a grant of £20,702 was provided to Easton Bavents Ltd to increase the suitability of this coastal site for nesting birds and other wildlife.
The project was to remove old, broken down, hazardous fencing and replace it with 1,622 m of new sheep fencing and gates along pathways and boundaries.
The Easton Marshes site is an important one for a wide range of birdlife and so their nesting sites need protection. The habitat on the site comprises low, heathland-type sward on very sandy soil, close to the beach, with patches of gorse, and bordered to the west with reeds and sedge, scrubby willow and a small pond.
The site has not been grazed for a number of years and the close sward is maintained by rabbits. The permissive path through it is used by dog walkers and becomes
particularly busy in the spring and summer as it is used to access a camp site on the north of the marshes.
The erection of new fencing has removed this disturbance and enhanced the area for biodiversity by increasing its suitability for nesting birds, and improving their breeding chances. Walkers can now enjoy the area safely.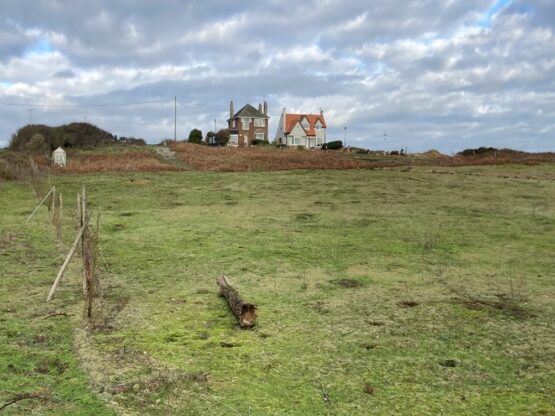 Old and broken fencing which was a hazard to walkers, dogs and wildlife, failed to protect nesting sites along this popular coastal path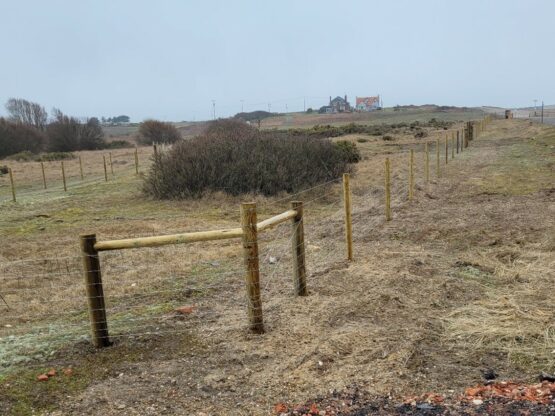 The new fencing is installed, looking north from the car park in Southwold
Which birds might you see on a visit to this site?
Local ornithologists check this site frequently and have records of bird and other wildlife sightings going back a number of years. Access and record-keeping will
continue and we'll expect to see increased diversity, abundance and breeding success over the coming years.
A huge range of birds have been identified on this site, including:
Linnets - (at least 4 pairs nested 2022)

Song Thrush (I pair nested 2022)

Stonechat (3 pairs nested 2022)

Wren (1 pair nested 2022)
The following birds nest in these areas annually: Reed Buntings, Common Whitethroat, Blackcaps, Cetti Warbler (absent following the beast from the east for 2 years now re-established as a nesting bird here), Reed warbler, Sedge Warbler, Dunnock, Robin, Blackbird, Chiffchaff, Blue Tit, Great tit, Moorhen, Magpie, Wood Pigeon, Chaffinch.
Non Nesters but active across these areas: Marsh Harrier, Kestrel, House Sparrow, Swift, House Martin, Sparrow Hawk, Barn Owl, Short Eared Owl, Common Buzzard, Hobby, Green Woodpecker, Great Spotted Woodpecker, Starlings, Pied Wagtail, Greenfinch, Rook, Carrion Crow, Herring Gull, Bittern, Lapwing, Greenfinch.
Passing migrants in Spring and Summer, many stay for days and sometimes weeks and regularly noted here are some: Black Redstart, Common Redstart, Wheatear, Whinchat, Ring Ouzel, Meadow Pipit, Rock Pipit, Dartford Warbler, Common Snipe, Woodcock, Short Eared Owl, Redwing, Fieldfare, Goldfinch, Firecrest, Willow Warbler, Garden Warbler, Lesser Whitethroat, Pied Flycatcher, Grey and Yellow Wagtails.
Uncommon migrants also noted: Wryneck, Great Grey Shrike, Whimbrel, Golden Plover
(Credit William Hancock, local ornithologist)