Amenity and Accessibility Fund Case Studies:
Hollesley School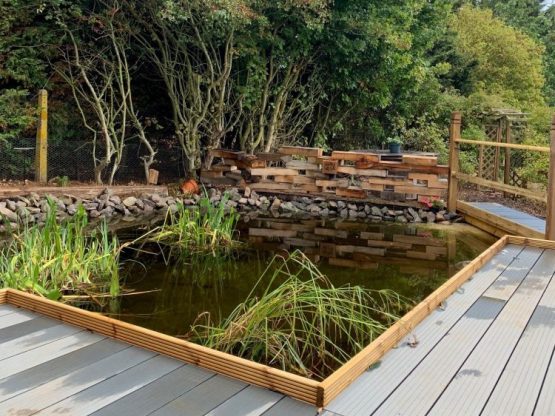 The Suffolk & Essex Coast & Heaths National Landscape Amenity and Accessibility Fund aims to improve the environment and natural character of the area by awarding grants to projects that conserve habitats and species and improve sustainable access to the area.
Successful applicants typically receive grants ranging from £500-700 to help introduce more people to nature and allow them to engage with the landscape in new ways.
For the 2022-23 funding year, Hollesley School were awarded £700 to create a new wildlife area for children in the school, whilst also developing the existing wildlife area. Friends of Hollesley School created a forest school area within the school grounds for the children.
EDF, providers of the grant funding, further supported Hollesley School with the Sizewell Helping Hands Programme, which saw 25 workers from Sizewell B assist with decking, remove old fencing, and general clearance work making the area ready for the forest school.
Julie Tyler, Chair of the PTA for Hollesley School said: "I'd like to thank everyone involved in making this dream come true. We now have an absolutely amazing learning space which can only help teach the children learn further outside the classroom. I am blown away by this project, proud is an understatement."
Funding for the Amenity and Accessibility Fund is provided by EDF, with an initial one-off payment of £120,000 made when construction of a Dry Fuel Store (DFS) for spent nuclear fuel at Sizewell B power station began, in addition to further annual payments by EDF of £20,000. The total awarded to local projects now exceeds £300,000.