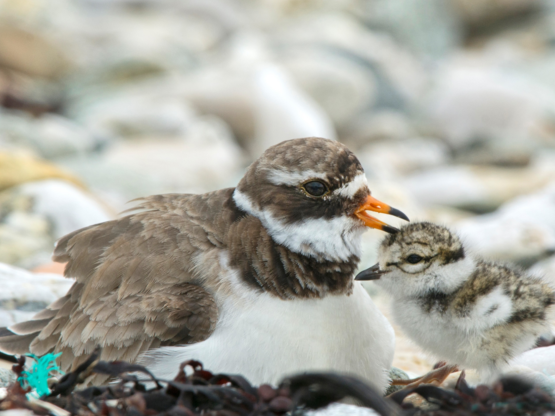 The Ringed Plover is a small, dumpy, short legged wading bird that breeds on vegetated shingle around estuaries in the Suffolk & Essex Coast & Heaths National Landscape.
They are vulnerable to habitat loss and disturbance, hence their population has declined by 59% in the UK in only 25 years.
Between April-July they lay 4 tiny eggs in a scrape on the ground which are neatly arranged with the pointed ends always in the centre of the nest.
As part of a project between the Suffolk & Essex Coast & Heaths National Landscape and the Harwich Haven Authority, work is being done to raise awareness of the ringed plover and educate visitors and local residents on how they can help support the ringed plover population and avoid some of the behaviours that can cause disturbance.
Volunteers! We need your help
Between February – March 2022, volunteers have surveyed a stretch of shingle beach north of Shotley Marina on the lookout for prospecting Ringed Plover that were
looking for suitable places to breed and rear their chicks.
The hope is their preferred nesting locations will be identified and those areas will then be roped off to protect the nests from beach users and walkers to avoid
disturbance.
We are seeking volunteers to help survey for Ringed Plover, help with fence erection and raise awareness of the plight of Ringed Plover to beach users. Dates and times for volunteering are very flexible and if you'd like further information please email coastandheaths@suffolkandessex-NL.org.uk.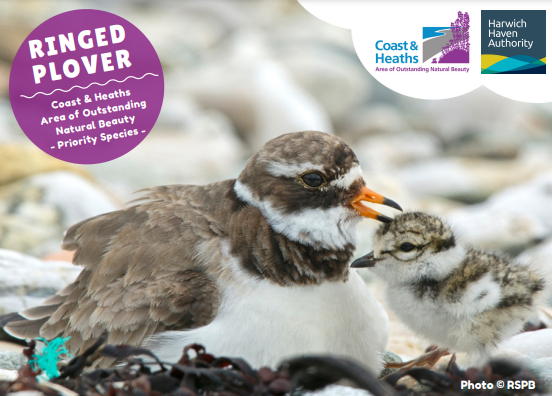 You can also download our postcards which provide more information on Ringed Plover and what you can do to help!